Jungle Brothers to headline Vale Earth Fair 2015
News story posted on: Thu, 2nd Apr 2015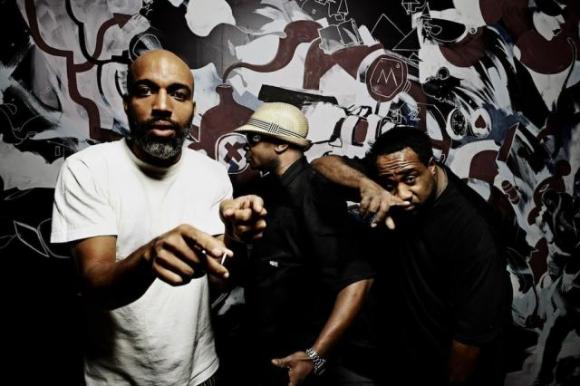 Living Legends The Jungle Brothers to Headline Vale Earth Fair 2015
This year's Vale Earth Fair, which takes place at the Vale Castle on Sunday 30th August, will see the legendary US hip-hop act the Jungle Brothers headline the annual music and arts festival.
The Jungle Brothers formed in Manhattan during hip-hop's halcyon days of the late 1980's. With Afrocentric lyrics and innovative beats, they pioneered the fusion of jazz and hip-hop, and also became the first hip-hop group to use a house-music producer. Proving themselves on New York's unmercifully hard talent circuit, the trio quickly amassed a respectable underground following.
In a small studio tucked away in Coney Island, the trio of Mike G, Afrika Baby Bam and DJ Sammy B eventually made the transition from talent show performers to recording artists in 1988, producing the world renowned classic album "Straight Out Of The Jungle". From this came the seminal hip-house single, "I'll House You", a huge European hit which led to their first trip to Europe.
On their triumphant return to the States, rather than rest on their laurels, the trio went back to the studio to record the groundbreaking "Done By The Forces Of Nature" (1990) released by Warner Brothers, and they enlisted a group of friends that were on the same creative wavelength: De La Soul, A Tribe Called Quest, Monie Love and Queen Latifah. The result was the loose, but influential collective known as the … NATIVE TONGUES
Further album releases followed with "JBeez Wit Da Remedy", "Raw Deluxe", "VIP" and "All That We Do", and a greatest hits compilation titled "This is…" released in 2005. In 2008, their single "What U Waitin 4" was ranked number 88 on VH1's 100 Greatest Songs of Hip Hop.
The Jungle Brothers show no signs of slowing down, they can trounce their opponents and still rock a party with the freshness of their formative years and that's just how they like it."We've been through growing pains, but we've come through them constantly building our friendship, that's why we're still together after all these years", says Afrika.
In a genre where many talk of longevity, but few attain that level of durability, the Jungle Brothers have achieved just that without succumbing to passing fads that slide snake-like in and out of rap. They remain true to themselves and their beloved art.
"With such a high profile act this year's Vale Earth Fair is going to be something really special", said Vale Earth Fair Collective member Rob Roussel, "we can look forward a truly unforgettable show from the JB's at the Vale Castle in August".
Keeping with the international flavour, this year's Vale Earth Fair will also see the welcome return of New York's Joe Driscoll, who is joined by Sekou Kouyate and their band.
The often overblown expression "music is a common language" has never been more appropriate in the case of Joe Driscoll & Sekou Kouyate. US-born, England-based Driscoll speaks no French and Kouyate, who hails from the West African country of Guinea, little English. When they were brought together at the Nuit Metis festival in Marseille in 2010 and given a week to produce a concert, music was the only way they could communicate.
It turns out, they had a lot to "talk" about, and their first meeting sparked a collaboration that led to the formation of a band, the recording of an album, over 120 concert dates across Europe and rave reviews. Driscoll contributes the rapping, looping, beatboxing and songwriting talents he developed growing up in New York. Kouyate, already a phenomenon in African music circles, has blown minds and ears with his hypersonic electrified riffs on the kora, bringing the exalted West African harp into the 21st Century with use of distortion peddles, effects and previously-unimagined technical prowess. In France, Kouyate is known as the 'Jimi Hendrix of the kora' because of his unique style of playing with various effects, in a variety of genres, and with an extreme intensity.
Together, Driscoll and Kouyate blend hip-hop, spoken word, funk, and soulful, accessible rock with Afrobeat, reggae and irrepressible African grooves. "Its world music at its very best" said Rob Roussel
By teaming up, Driscoll and Kouyate have created a sum that exceeds even the large whole of its individual parts. According to Driscoll, "We've been raised in very different cultures in so many ways, but we share a lot of the same interests musically. Sekou was raised in the African rhythm and traditions, yet has always had a passion for reggae, hip-hop. I'm kind of the other way around. At the heart of it, we both just make the noises we love; we listen to each other, and try to flow in harmony. I think we just bounced off each other in so many ways: rhythmically, melodically, with craftsmanship. Through this, we found we had a language between us and that philosophically we were on a lot of the same pages as well."
Other acts already confirmed for the Vale Earth Fair include voodoo sci-fi blues act Vienna Ditto from Oxford, Bournemouth's Bonsai Pirates, and a welcome return to these shores for local exports Of Empires and Robert J Hunter, with more to be announced in the coming weeks.
Advance tickets at £15 (£10 concessions) here, or you can pay £20 at the gate on the day. Children (12 and under) are free if accompanied by an adult. Profits from the Vale Earth Fair are split between the humanitarian organisations the Burma Campaign UK, Free Tibet, and Bridge2Haiti.