1st Fundraiser of 2018
News story posted on: Wed, 31st Jan 2018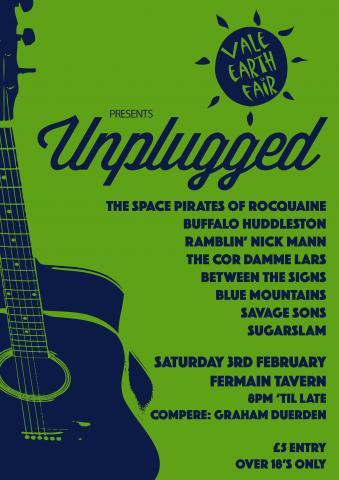 Vale Earth Fair Unplugged
A night of acoustic(ish) music from some of Guernsey's finest musicians, the Vale Earth Fair's sixth unplugged event takes place on Saturday 3rd February at the Fermain Tavern.
Sticking with the same format, it will feature non-stop live music from eight different acts on two separate stages, with the wonderful Graham Duerden doing the introductions on alternating stages.
Doors open at 7pm and its £5 entry - all proceeds go towards the Vale Earth Fair
There is an awesome line-up this year, with the running order for the night is as follows:
20:00 The Cor Damme Lars
20:30 Savage Sons
21:00 Between The Signs
21:30 Buffalo Huddleston
22:00 Ramblin' Nick Mann
22:30 Sugarslam
23:00 Blue Mountains
23:30 The Space Pirates of Rocquaine
Preparations are already underway for this year's annual Vale Earth Fair music festival, which will take place at the Vale Castle on Sunday 26th August. The Vale Earth Fair is supported by the Guernsey Arts Commission.