AUNG SAN SUU KYI'S ADDRESS TO PARLIAMENT
News story posted on: Fri, 22nd Jun 2012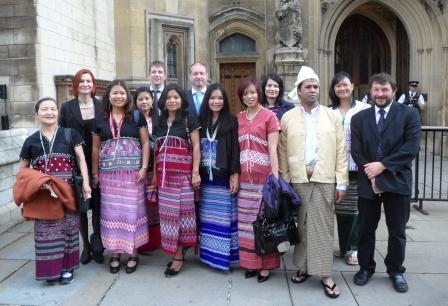 21st July 2012
As Aung San Suu Kyi , the Burmese opposition leader, gave an historic speech at to both UK Houses of Parliament at Westminster Hall yesterday, one of the organisers of the Vale Earth Fair, Rob Roussel, was in attendance to witness the occasion, and earlier in the week he was at the Royal Albert Hall for the Dalai Lama – two Nobel Peace Prize winners in one week.
It is sometimes forgotten that the Vale Earth Fair is more than just a music festival and has an important role in raising funds for humanitarian causes. "We have had a long standing association with the Burma Campaign UK and Free Tibet" said Vale Earth Fair Collective member Rob Roussel, "and it is through invitations from these organisations that my trip to London this week came about".
"A couple of weeks ago I received an invitation to Parliament from Mr Speaker & the Lord Speaker to attend the address by Aung San Suu Kyi, and I jumped at the chance to be there", said Rob Roussel, and by coincidence, it came at the same time as the Dalai Lama's visit to the UK.
Rob Roussel was one of only a few hundred guests to receive an invitation to Westminster Hall yesterday, rubbing shoulders with other supporters of human rights and democratic reform in Burma, including Maureen Lipman, Jo Brand, Joanna Lumley and Annie Lennox.
After spending most of the last 20 years under house arrest in Burma, this was Aung San Suu Kyi's first visit to the UK since 1988. "It was truly an honour to represent the Vale Earth Fair at such an historic event" said Rob. The scale of the occasion was apparent from The Speaker the Rt Hon John Bercow MP's introduction. In recent years only foreign dignitaries such as President Barack Obama, Nelson Mandela and Pope Benedict have spoken in Westminster Hall. Aung San Suu Kyi was not only the first figure other than a Head of State to address both Houses of Parliament, but also the first woman from abroad and the first Asian.
Aung San Suu Kyi was released from house arrest in November 2010, and following electoral reform, she was finally elected to their parliament. After being introduced by John Bercow as a conscience of a country, a heroine of humanity, Aung San Suu Kyi spoke for half an hour of democracy for Burma, electoral reform, freedom of speech, and the right to vote.
However, her visit to Europe this month is far from a victory tour, and she used her speech to ask for practical help towards reforms in her country. She made it clear that this is just the start of a journey to hopefully better times for Burma. "We are only now just beginning to see the fruits of our struggle" she said. In Burma their parliament is still in its infancy, and Aung San Suu Kyi has yet to have the opportunity to address her own parliament. There is cautious optimism but there is now an opportunity to re-establish democracy in Burma.
After her address, Aung San Suu Kyi took time to meet some of the Burmese exiles in attendance, including staff of the Burma Campaign. "It was an unforgettable day", said Rob Roussel, "particularly for some of the close friends we have made over the years of supporting the Burma Campaign. A day that really brings hope to them for the future for their country".
Earlier in the week, at the invitation of Free Tibet, Rob also attended a public talk by the Dalai Lama at a packed Royal Albert Hall. This was followed by a reception for Free Tibet supporters to mark twenty five years of campaigning for human rights and freedom for Tibetans. This was also a chance to meet the Free Tibet team and other supporters of the organisation. Stephanie Brigden, Director of Free Tibet, gave a heartfelt speech thanking supporters for their contribution to their work, and talked of the ongoing situation in Tibet, highlighting the resettlement of nomadic Tibetans by their Chinese rulers into ghettos, reminiscent of the reserves used to house Native Americans and Aboriginal Australians, and the shocking self-immolations of Tibetans in protest to Chinese occupation.
"Whilst I have been lucky enough to have an unforgettable few days, hopefully the rest of the Vale Earth Fair Collective, and our supporters, can also take heart from the message that the Vale Earth Fair can make a positive contribution to the lives who do not enjoy the same freedom as us" said Rob Roussel. "A few years ago Zoya Phan of the Burma Campaign was on stage at the Vale Earth Fair leading a chant of "Free Burma", and it is inspiring to think that the Vale Earth Fair has in a small way contributed to the first signs of that message becoming a reality," said Rob Roussel, "however, we also know that there is a long way to go, as highlighted by ongoing conflict in ethnic areas of Burma, and the scores of political prisoners who remain incarcerated in the country's jails".
If you missed it, Aung San Suu Kyi's address to parliament can by watched in full on BBC Parliament on BBC iplayer for the next week. Link -BBC IPlayer Link to Aung San Suu Kyi's address to Parliament