Come and visit the organisers of the Vale earth Fair at our stall at Arts Sunday organised by the...
2nd Gsy Scout Headquarters
The Vale Earth Fair are hosting a Record and CD Fair to raise funds for the Vale Earth Fair. It...
The first fundraiser of 2018 proper is the annual unplugged extravagansa, and what a line up we...
Join Kate, Hollie and friends for an electronic night of eclectic music from 8pm at the De La Rue...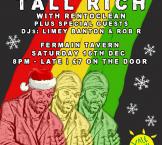 Vale Earth Fair's Reggae Christmas Special Continuing the international theme of this year...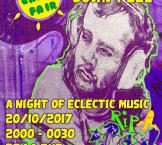 The annual tribute to John Peel with 18 DJ's playing 15 minutes of random music each
Headliners for this year's Vale Earth Fair is US rapper Chali 2na with UK turntablist Krafty Kuts...
2nd Guernsey Scout Headquarters
The Vale Earth Fair is hosting a record and CD fair at the Second Guernsey Scout Group HQ - The...
The annual Vale Earth Fair music quiz takes place on Wed 29 March at the Thomas De La Rue. Teams of...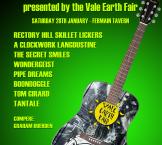 The ever popular Vale Earth Fair Unplugged night is back on Saturday 28th January at the Fermain...