<< Back to events
LINE UP - Castle Stage
Castle Stage, Vale Castle
Sunday, August 28, 2022 (All day)
The Castle Stage is ready for another year of huge acts from the Bailiwick, Jersey and the UK!

22.45 - Scratch Perverts ft. Killa Kela
Traversing all styles, the Scratch Perverts cross over genre lines with ease in a way that's pleasing on the ears but similarly entertaining on the eyes. Their skills have taken them round the world and back, touring with the likes of the Beastie Boys and The Sex Pistols and even seeing them involved with the computer game DJ Hero. Let's face it… you don't get asked personally by the legendary John Peel (R.I.P.) to play his 60th birthday unless you're pretty damn good. Joining the Scratch Perverts on stage for the finale to this year's Vale Earth Fair is Beatboxer Killa Kela - expect drum and bass, electro and hip hop styles.

21.15 - Hollie Cook
Cook combines her unique vocal talent with charming charisma to craft her own dynamic strand of lover's rock with tropical vibes, weaving a path from her West London roots to an arena of diverse collaborations with big hitters Prince Fatty and Jah Wobble (a previous VEF headliner). Cook's music career commenced early when family friend and punk trailblazer Ari Up asked Cook, age 19 at the time, to join the raucous '70s feminist UK post-punk outfit The Slits for their reformation in 2006. She thrived on being thrown into the deep end and quickly cut her teeth with four years of back-to-back shows around the globe. Since then, Cook has released three solo albums and a string of well received singles, with her ravishing new fourth studio album 'Happy Hour' due for release on 24th June. Cook's ability to continually surprise, delight, and progress solidifies her position as one of the most exciting voices of modern reggae.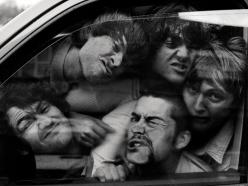 19.45 - FEET
FEET are described by the band as "It's taking the pop music formula - hooky choruses, nothing too self-indulgent - but it's still got a bit of edge…a bit gritter". This London-based quintet have honed their indie sound throughout lockdown by living in a flat together "like a hive mind". Their first record gained them support from the likes of NME, DIY and Radio One and their latest EP and comeback record have shown they are more than willing to throw in a liberal smattering of humour whilst showing their ambition to make their mark as musicians.

18.30 - CLT DRP
Brighton-based feminist electropunk trio CLT DRP are already being hailed as the most abrasive, innovative new artists in the UK. Their latest single "TORX" landed on the Radio X Xposure Evening Playlist and sees a further evolution of their eclectic, experimental approach to fusing electronic and punk music in boundary breaking fashion.

17.30 - Millie Manders & the Shutup
Millie Manders and The Shutup create cross-genre punk that is hard to ignore. With lyricism that pokes fun, draws you in or leaves you questioning social norms teamed with incredible vocal dexterity, grinding guitars, irresistible horn hooks and a pumping rhythm section, the Millie Manders Music Machine churns out more raw punk fusion than you can shake a stick at, with a huge amount of Pop appeal.

16.30 - The Honest Crooks
As well known party-starters, this hugely popular ska and reggae inspired band will get your feet moving with covers of songs you know and some incredibly catchy and classic originals. In their own words, it's "music that makes you want to drink beer and dance in the sunshine".

15.30 - Benny the Moth
Hailing from Jersey, Benny the Moth will be showing us how it's done from across the pond. Straight from the VEF warm-up, we can't wait to see what they'll do. Expect a lot of energy alongside fuzzy reggae and some funky ska with an indie twist.

14.30 - Its Own Animal
Its Own Animal only appeared on the Guernsey music scene in the last couple of years, but boy are we lucky to have him! He's an electronic musician, producer, beat poet and songwriter working across several genres who is sure to get you dancing with his drum and bass inspired folk and ambient sounds.

13.30 - Russell & the French Boys
You'll be up on your feet dancing along with this gloriously funky tantalising brand of suggestive prog. pop rock. Expect infectiously energetic tunes and a whole lot of quirk.

12.30 - The Crowman
Mark Le Crowman has performed the Vale Earth Fair more than anyone in his various disguises. Expect music hall humour and steam punk silliness, but come the end you'll be crowing for more. Murder on the dance floor...