<< Back to events
Vale Earth Fair 2014
Sunday, August 24, 2014 - 12:00
Vale Earth Fair 2014 Line-Up The Channel Islands' longest running music and arts festival, the Vale Earth Fair, which takes place at the Vale Castle on Sunday 24th August, will see the legendary urban electronic dance act Freestylers preform as this year's headline act.
After a 16 year career the Freestylers have played all the biggest festivals and the most talked about nightclubs around the world. Aston Harvey and Matt Cantor started working on music together in the mid '90's after discovering a mutual love of Hip-Hop, Electro and Beats.
The Freestylers began their career as an urban electronic music act and early classic tunes 'B-Boy Stance', 'Ruffneck' and 'Warning' set the marker. As their music has progressed so have their anthems. In addition to their status as underground heroes, they have gained commercial success with their global hit 'Push Up', and have had their music synched in numerous films and TV commercials.
As a live act the Freestylers are joined by long time 'band' members MC Sirreal and Valerie Maxfield, both vocalists, Dave Budgen on Bass, guitarist Tony Ayiotou, and drummer Samuel Edwards. This original line up has played to notoriously massive crowds at UK fixtures such as Glastonbury, Reading and Leeds. Other live highlights include MTV's Times Square Millennium Party, wowing 'Big Day Out' crowds with high energy shows in Australia, and sharing the bill with some of the world's biggest rock acts including Red Hot Chilli Peppers and Queens of the Stone Age. US artist Lenny Kravitz also personally invited the band to be support act on his 'American Woman Tour'.
The Freestylers high octane live performances has earned them awards for best live band amongst others and earning them the reputation as one of electronic music's most celebrated acts ever, not to mention holding a cheeky 'record' as the first 'Electronic' act to be asked to perform on the iconic British music show 'Top of the Pops'.
Other acts performing at the Vale Earth Fair include Manchester Hip Hop collective 'The Mouse Outfit', who will warm the crowd up perfectly before the Freestylers take to the stage.
Those that caught them at their sell-out show earlier this year at the Fermain Tavern will vouch for that. The Mouse Outfit are a live eight piece eclectic hip hop act from Manchester who produce a slick combination of quality samples and fiendish beats. Influenced by a smorgasbord of soul, jazz, funk, reggae and classic hip hop breaks and laced with lyrics from some of Britain's most promising emcees, this is conscious British hip hop at its very best.
The Vale Earth Fair is one of a string of festival dates they are playing this summer,taking in much of Europe. Their Vale Earth Fair show will be extra special too, with Truthos Mufasa joining regular MC's Dr Syntax and Sparkz. Truthos Mufasa may be better known as actor Tachia Newall, who played Bolton Smilie in the hit BBC drama Waterloo Road, and has also appeared in Coronation Street and Doctors amongst others. Described as an anarchistic singer/songwriter, rapper, producer, drummer, beatboxer, Truthos is currently focussing on his musical career as solo artist, collaborator, and member of rap group "Ape Cult", as well as appearing at selected shows with the Mouse Outfit.
The Mouse Outfit live is an epic journey that continually builds in tempo and momentum fusing classic jump up themes and hip hop medleys with thumping funk bass lines and classic breaks. 2013 saw the Mouse Outfit take their new live set to many of the UK's leading festivals where they were received with critical acclaim and hailed as the exciting future of UK hip hop.
The Delegators will take to the main stage in the Vale Castle at around 7:30pm.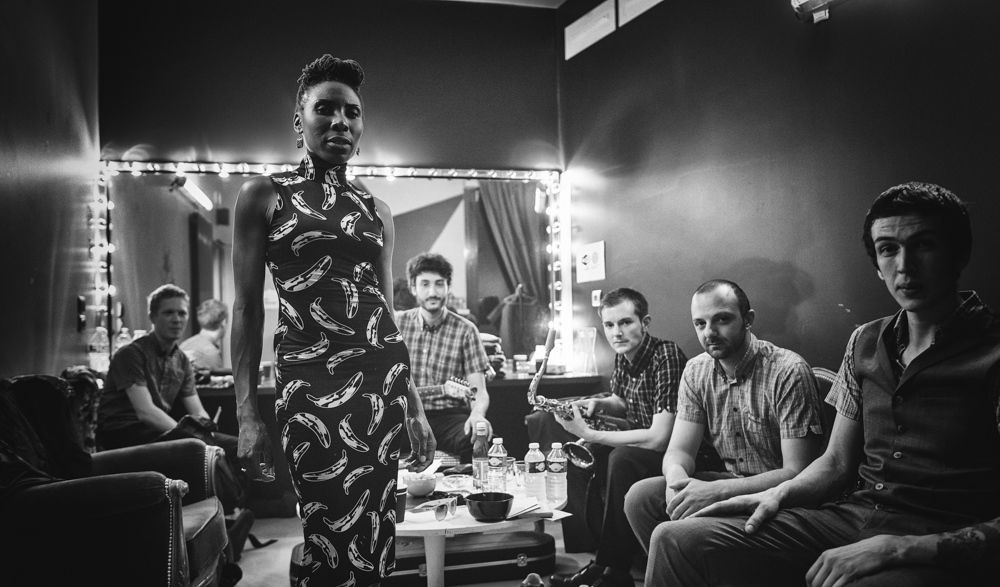 They are 6 piece band playing original ska and rocksteady with hints of Motown and 60s soul. The band is a collective of London-based musicians who came together 6 years ago and have since been fusing their love of early reggae, blues, gospel and 60s soul to create an upbeat, uplifting, live experience which harks back to the sounds of Jamaica's Studio 1 and London's early Island records.
Lead vocalist Janet Kumah commands an audience with her electrifying stage presence and gutsy vocal performance, with the band backing her up with a relentless groove. The debut album from The Delegators, All Aboard, was released last year featuring 12 tracks of classic ska/reggae with an old school feel, but also reminiscent of the Two Tone days of the Late seventies.
To get an idea of the Delegators' sound, imagine the Supremes moved to Kingston via South London. Hailing from London, they have performed around Europe and have a strong following in Spain. They are also veterans of the London International Ska Festival held each year in the capital. These shows have helped established the band as one of the UK's most exciting up and coming acts. A live session recorded at BBC Maida Vale Studio on Radio 2 was, in the words of Mark Lamarr, "just wonderful, exactly as good as I'd hoped it would be."
DEAD SEA SKULLS
Unfortunately The Black and Reds pulled out at the last minute from last year's Vale Earth Fair. They did however make it over for the wind-down gig the following night. Those that witnessed that show will be aware of what an astonishing performer Ash Sheehan is. The sight of all the De La Rue regulars getting off their bar stools to watch the band open mouthed was something to behold – and that was just the sound check! Ash returns for this year's Vale Earth Fair with another band: Dead Sea Skulls - get used to the name, you'll be hearing it a lot. What you see is what you get with this new and exciting trio.
Hailing from Birmingham they combine, hard punk riffs and infectious melodies which ooze from their tracks such as the single, "I Wanna Buy A Rolex," which was unleashed in March this year (check out the video on You Tube). The Dead Sea Skulls were born in 2012, the brainchild of brothers Jim and Nick Crutchley and made whole by renowned percussionist Ash (who also drums for The Twang).
Their sound is loud, gnarly, raw, passionate, energetic and radio friendly enough to push them to the forefront of new music. Ash, a wizard on the drums with strong, deep vocals, plays front and centre. Coupled with Jimi & Nick on bass and guitar this band's live show is a visual and aural riot that you won't be able to tear yourself away from.
Other acts:
Complementing the UK acts performing on the main stage will be The Recks – for those that don't already know The Recks are an alternative 5-piece band from Sark who write contemporary multi-genre music with a roots-based foundation. They have been hailed as "the new kings of schizophrenic folk". Rave reviews have resulted in UK festival appearances at Isle of Wight and Boomtown this year, and they rightly have a huge local following.
Other Guernsey acts on the Castle Stage include Rentoclean, Buffalo Huddleston, Subversion, and The Crowman & the Fiddling Pixie; with the line-up completed by new Jersey act The Devil and the Deep.
Talking of new Jersey, New York's Jonny Lives! returns to these shores once again to headline the 'Stage Against the Machine' – situated outside the Castle walls at the top of the hill.
Jonny Lives! have shared the stage with the likes of Meatloaf, Blondie, Patti Smith, The Strokes, The Killers, Sonic Youth and the Kaiser Chiefs among others, solidifying their place in the spotlight. They pull no punches on their recent LP 'Revolution for Free', speaking out for peace and the environment, while never losing sight of having fun, crafting sing-along melodies, and writing pop songs that make the listener want to smile.
Hailing from the streets of New York's Lower East Side, Jonny Lives! birthed from the same scene as bands like the Strokes, the Yeah Yeah Yeahs, and Interpol, combining garage rock elements with musical cues taken from Brit-pop and the '60s and '70s N.Y.C. punk scene to produce their own anthemic soundtrack to the city nightlife. Classically trained in piano from a young age and picking up guitar at age 12, Dubowsky began hooking up with various musicians in the burgeoning LES scene by his early twenties. Making connections and playing with bands like Luscious Jackson, Jon Spencer Blues Explosion, and Elwood, he eventually began writing songs that would become Jonny Lives!
Jonny also brings the Rock n Renew Foundation to the Vale Earth Fair, helping us to eliminate food waste from the festival. Al Gore meets Iggy Pop! Jonny Dubowsky has rocketed from a next-big-thing musician, with a green bent, into one of the most exciting, formidable, and authoritative environmentalists on the planet - a young man who has upended everything we know about the green movement.
Top Buzzer play pop-punk in a style that is so fresh and individual. You might just love them, and they're second on the bill on the Stage Against the Machine. The punk pop new wave powerhouse that are Top Buzzer have been making a racket since 2011.
Their DIY ethos and sheer dedication saw the band tour incessantly. Following their first US tour the band recorded their debut album "Outside Is A World", mixed by Kennan Keating (Nine Inch Nails, Blondie, Alan Vega) who the band met while the Brits were slogging it out on the road Stateside. Summer 2013 saw the band as busy as ever with the release of The Sprollie EP and European shows with Californian legends Face To Face and CH3 culminating in a home coming appearance at the world renowned Rebellion Festival alongside last year's headliners Buzzcocks.
'ATTILA THE STOCKBROKER'S BARNSTORMER'.
Sharp-tongued, high energy, social surrealist, rebel poet and songwriter. Attila the Stockbroker's themes are topical, his words hard-hitting, his politics unashamedly radical, but he will make you roar with laughter as well as seethe with anger...
Inspired by the great Sussex poet Hilaire Belloc and punk, especially The Clash, he did his first gig in 1980, shouting poems in between punk bands. He quickly got 2 John Peel sessions and was on the front cover of Melody Maker – and he hasn't looked back since…. He's done about 3,000 more gigs since in 24 countries - at venues ranging from the Glastonbury Festival (every year since 1983) and countless other music and literature festivals in the UK, Europe, America, Canada, Australia and New Zealand to freezing punk squats in Germany, the Law Society and the Oxford Union, and a hotel basement in Stalinist Albania.
Having entertained us at the Guernsey Literary Festival last year, Attila brings his band Barnstormer to the Vale Earth Fair. Formed in 1994, Barnstormer combines two of Attila's great musical loves - medieval music and punk! - giving him the chance to use his classical violin training and play loads of his favourite medieval instruments (crumhorn anyone?).
The band released their debut album 'The Siege of Shoreham' in 1996, and gig regularly all over the place. They are now 4 albums and about 400 gigs down the line. Expect some poetry and much hilarity as well as the music.
The Stage Against the Machine's line up also features Guernsey bands To The Woods, Of Empires, Blakalaska, Static Alice, Tantale, Stone Em All, Rob Hunter and Subversion, with Flash Mob popping over from Jersey.
There's more live music on the Breakz 'n' Beatz stage with The Smooth Hounds from Jersey, Southampton's Grant Sharkey, and the Asylum Seekas. The DJ's take over from 7pm, and include special guests from London. Based in South East London, DJs Mindset and Furious are part of the Rudefm.com family.
Their love of the darker sound of Drum & Bass started way back in the late 90's, starting out playing at private parties. They've since worked their way up the ranks, playing at various other London D&B stations and underground gigs. If you're into Drum and Bass, do not miss this duo who will be playing some of the freshest beats from the big smoke! Rudefm.com takeover from 9pm onwards, alongside some of Guernsey's other top D&B DJs.
Other attractions at the Vale Earth Fair include the Pixie tent hosted by the Merkaba Tribe from Jersey, and a revamped Dance Zone.
If you need a break, relax in the chill out tent with a Fair Trade coffee and cookie. There are food stalls, licensed bar, kids area and lots of other stuff going on around the castle.
Profits from the Vale Earth Fair are split between the humanitarian organisations the Burma Campaign UK, Free Tibet, and Bridge2Haiti. If you want to learn more about the causes the Vale Earth Fair supports, information will be available at the Vale Earth Fair festival tent, where merchandise can also be found, and there are links on the website: www.valeearthfair.org. Representatives from Free Tibet and the Burma Campaign UK will also be on hand at the Festival for a chat.
Advance tickets at £15 are already on sale though the Vale Earth Fair website www.valeearthfair.org, and are available from various shops from today (Saturday 20 July), including Kendall Guitars, Saiko, HS2, Bluchip, Yak Wax, Fancy That! Sails,, and Manzur Hairdressers, and White Label Records in Jersey. Otherwise you can pay £20 at the gate on the day. Children (12 and under) are free if accompanied by an adult.
Full Line-up on the back of the poster: