<< Back to events
Vale Earth Fair 2013
Sunday, August 25, 2013 - 12:00
Vale Earth Fair 2013
Vale Earth Fair 2013 full line-up.
The Channel Islands longest running music and arts festival, the Vale Earth Fair, takes place on Sunday 25th August at the Vale Castle. Acts performing on the day are now all confirmed, and it's shaping up to be a real classic. With punk legends Buzzcocks headlining the show, there is an all-star supporting cast on the bill across six stages, featuring bands from the UK, US, and Alderney, Sark and Jersey, alongside local artists. The full line up can now be revealed:
Castle Stage
23:00 BRIGHT_LIGHTS
21:30 Buzzcocks
20:00 The Correspondents
19:00 BackBeat SoundSystem
18:00 Sons of the Desert
17:00 MynieMoe
16:00 Vin Garbutt
15:00 Jonny Lives!
!14:00 The John Wesley Stone
13:00 Edith's Head
12:00 Shambolix
Stage against the Machine
23:00 Last of the Light Brigade
22:15 Of Empires
20:45 The Algorithm
19:30 Sugar Slam
18:30 Brunt
17:30 Any Given Sunday
16:30 The Recks
15:30 LifeJacket
14:30 Surfin' Birds
13:30 The Terrace House Band
12:45 The Phantom Cosmonaut
Busking Stage
Acoustic acts from Midday until 8pm:
19:00 Esther Rose Parkes
18:00 Burg
17:00 Andy Sauvage
16:00 Matthew P Ward
15:00 Jack McGahy
14:00 Fi & Claire
13:00 Of Empires (Acoustic)
12:00 Open Mic
Funk Da Rock presents the Bangorang Stage
22:30 Krossbow (Live)
21:00 Bunkle
20:00 Schema
18:45 Houdini
17:15 Future Dub Orchestra (Live)
16:00 Leon
15:00 Lo-Fidelity Sparkle Bitches
14:00 Chris Gomez.
13:15 Grant Sharkey (Live)
12:00 Flexagon
Dance Zone
22:30 Chaosmonkeys
21:00 Derek McKenna
20:00 Ray Marshall
19:00 Souplet
18:00 Skinny
17:00 Dave Jones
16:00 Jay Allen
14:00 Marigold
12:00 Soups & Son + guests
Pixie Stage
22:30 Organic Om
21:00 Liquidic
20:00 Sephira
18:30 Flexagon
17:30 Edyon
16:00 Alex
14:30 Tripnip
13:00 Badger
12:00 Heath
Advance tickets for £15- are now on sale from Merkahbah Coffee, Kendall Guitars, YakWax, HS2, Manzur Hairdressers. The price on the day is £20- at the gate, and children (12 and under) are free if accompanied by an adult.
There will be the usual array of stalls, food tents, licensed bar, and children's area, among other attractions, and profits from the event will go towards humanitarian causes the Burma Campaign, Free Tibet, and Bridge 2 Haiti. The Vale Earth Fair is not a BYOB event.
Castle Stage Acts:
BRIGHT_LIGHTS, 23:00 - Midnight:
It's a long time since a local act has fitted the bill for last act on, but BRIGHT_LIGHTS have put in some stunning performances over the last 12 months after being reborn at last year's Vale Earth Fair. Mixing electronica and dub step with traditional live instruments, and powerful vocals from Fran, we expect a big show from these bright lights.
Buzzcocks, 21:15 – 22:30:
Buzzcocks are one of the few bands performing today that genuinely deserve 'legendary' status. Their achievements are staggering: one of the original holy trinity of British punk (with the Sex Pistols and the Clash), innovators of the independent record scene and genuine punk rock superstars, they have been cited as inspirational by bands as diverse as REM, Nirvana and Green Day. They even have a long running BBC quiz show in "Never Mind the Buzzcocks" named after them. A Mojo Inspiration award in 2006 is just one of the many accolades they have received for their work.
Buzzcocks have been thrilling audiences for over thirty years. Once called 'the Beatles of punk', their music blends high-octane guitar, bass and drum power with heartrending personal statements of love won and lost or dismay at the modern world to create a unique catalogue of unforgettable and immortal music – music they continue to deliver to fans old and new around the world with undiminished passion and energy. They are simultaneously true to their original ideals and open to new ideas – a happy result of their own uncompromising and individual standing.
Buzzcocks' seminal pop treasure "Singles Going Steady" is consistently the band's biggest selling Lp and a masterclass in genre-busting songcraft. This compilation of their first UK Top 40 hits is a classic album in every sense, an astounding collection of stunning moments such as 'Orgasm Addict', 'What Do I Get?' the anthemic 'Harmony In My Head' and, of course, the song that has become their calling card: 'Ever Fallen In Love With Someone (You Shouldn't've Fallen In Love With?)'. Eight studio albums, over twenty singles and EPs, a constellation of compilations, covers by other bands and songs on film soundtracks and advertisements have put Buzzcocks among the top echelons of British recording artists.
Buzzcocks are the true godfathers of punk-pop, having laid down that infinitely superior archetype. They are also a band with a past, present, and future. It is a history the group's members could never have imagined back in the hot punk rock summer of '76. Says Pete Shelley: "Looking back on it now, what's going on is like echoes of the Big Bang. You look around you in society and the culture; so many things would not have been the same if there never was punk rock. It's strange; it's like a science fiction novel. But to us at the time, it just sprung naturally."
They're still doing it, better than anyone. Sometimes the archetype is clearly the best. Buzzcocks – no. 1 in people's hearts.Icons, superstars, legends!
The Correspondents, 20:00 – 21:00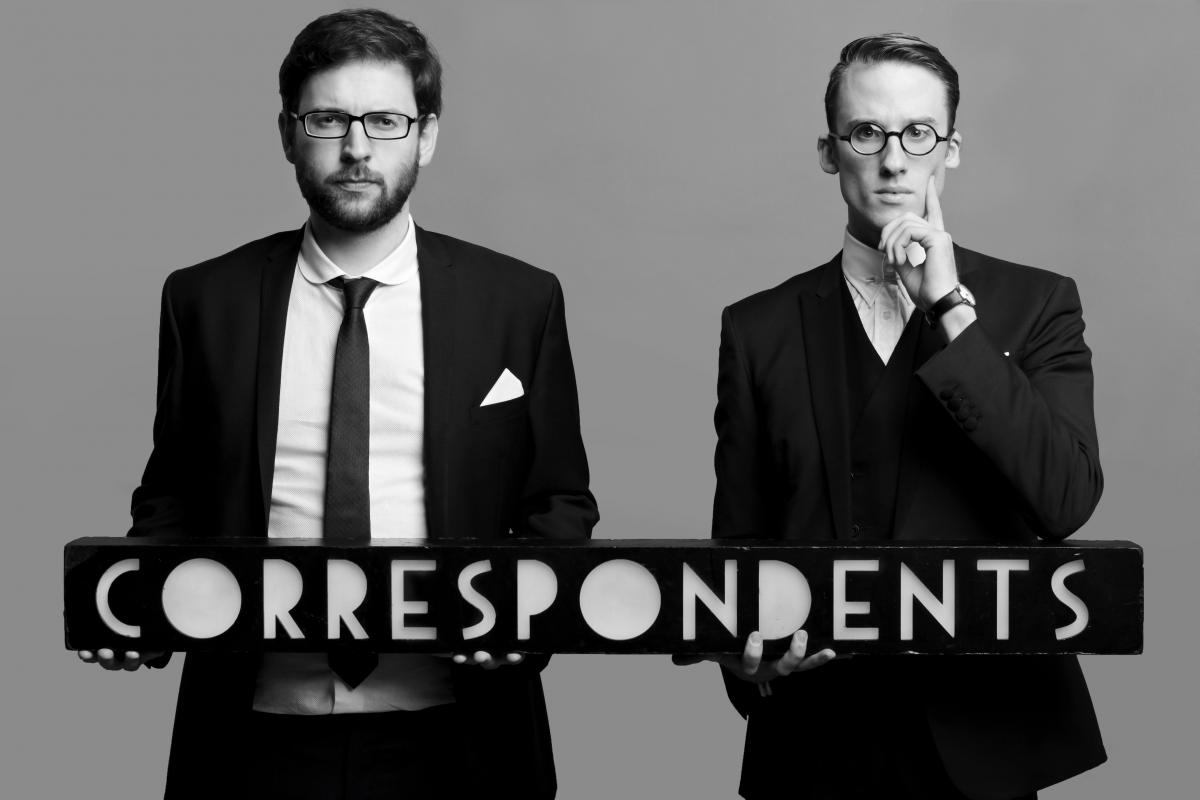 The Correspondents are Mr. Bruce and Chucks. They take the multi-genre approach, with producer Chucks throwing a history of dance music into the pot from jazz to electro, 60's beat to Hip Hop to Blues to Drum n Bass. Seasoned with Mr. Bruce's vocals depicting the trials and tribulations of Love, Lust and Loss they create a unique sound that avoids easy categorization.
On stage they take form as a DJ/MC duo with Chucks hurling tracks at the audience and flamboyantly costumed Mr. Bruce whipping them into a frenzy with high speed scatting and incredulous dance moves. Their performances have taken them from mud pit to main stage, armed with anything from a brass sections to an infrared sensored light box and their trusty conveyor belt dance platform. Their reputation as one of the UK's best live acts has earned them The Telegraph's Top Ten Highlights of Glastonbury two years in a row and they have forged a career that has taken the pair across Europe's festival and club scene to continuously expand their reach.
The debut EP 'What's Happened to Soho?' was released in April 2011. It is a mini-concept in itself with a beginning, middle and end and references numerous different genres whilst settling on none. January 2013 saw the release of their latest single from their up and coming album. It's a blues-rock toe tapper called 'Well Measured Vice'. The video, released at the same time, is a hand drawn animation combined with stop motion created by Mr. Bruce himself.
BackBeat SoundSystem, 19:00 – 19:45
8-piece funk reggae outfit Backbeat Sound System are a band laden with groove, their up-tempo song craft drawing from numerous influences in creation of a tight, elated sun-clasped sound. Since forming in the charming Cornish idyll of St Austell, Backbeat have been smashing up stages all across the UK.
Backbeat Sound System transcend genre limitations - this is original sound, groovy and affecting. Over their three debut EPs, the band have honed a bass-led party sound that is as infectious as it is sonically interesting. On record, they use the full potential of the studio to craft a highly dynamic approach to recording, spacious multi-tracking and arrangements making the best of the format - but live, they are a different beast. The 'serious pop' songs' inherent strengths come to the fore and explode in a haze of onstage energy and pumping rhythm.
Sons of the Desert, 18:00 – 18:40
Guernsey's biggest ska band playing a mix of early Jamaican ska/reggae, rocksteady and bluebeat, 2-Tone and third wave US-influenced ska. The 8 piece group formed in 2011 and regularly play to packed houses with their energetic, good time music. This band guarantees to liberate your feet!
MynieMoe, 17:00 – 17:40
Lucifer's throat, flailing stick arms, comedy lips and tragedy fingers. What kind of music is this? Beach Boys and Black Sabbath do Bond. Dean Martin arm-wrestling with Sid Vicious at David Lynch's birthday party. Barbershop brothel-core. Doom-wop. Motown mariachi movie metal. Roxotica. We have sousaphone and Moog. Big drums. Bigger singing. Prepare yourself for a daymare.
It's alive! A monster ripped from the brains, throat and fingers of 12 Stone Toddler (remember them?). A thumping sousaphone heart, a swing beat swagger, a croon-rock cry over skittering Wurlitzers and spaghetti Western guitar. Toddler was the pre-titles cliffhanger. This is scene one.
Vin Garbutt, 16:00 – 16:40
Folk legend Vin Garbutt, was the winner of BBC Radio 2 Folk Awards "Best Live Act" Award in 2001. Powerful, hugely moving, warm, humane, inspired, funny and gut wrenchingly honest. These are just some of the superlatives used to describe Vin's performances.
Vin is forever in demand and his shows are continually sell outs, with a career spanning over 40 years of constant worldwide touring which must make him some kind of elder statesman of folk. His songs were inspired by the folk tradition at the beginning of his career, they still are but have transformed into gritty social comment and life observations. Back in 1972 he recorded his first album for Bill Leader - The Valley Of Tees. This firmly established him as a singer and songwriter of fine socially conscious, and environmentally aware songs. As one magazine very recently put it - "Vin Garbutt was green long before the Greens were green!"
He is renowned for his hilarious intros but for him his song lyrics are the crux of his performance. Garbutt has been described as the undisputed master of communicating with an audience, so he is certain to bring some entertainment to the afternoon of the Vale Earth Fair.
Jonny Lives! 15:00 - 15:40

Jonny Lives! return to the island following a sell out show at the Fermain Tavern last year., Jonny Lives! have shared the stage with the likes of Meatloaf, Blondie, Patti Smith, The Strokes, The Killers, Sonic Youth and the Kaiser Chiefs among others, solidifying their place in the spotlight. They pull no punches on their recent LP 'Revolution for Free', speaking out for peace and the environment, while never losing sight of having fun, crafting sing-along melodies, and writing pop songs that make the listener want to smile.
Front man Jonny Dubowsky also brings the Rock n Renew Foundation to the Vale Earth Fair. Rock 'n Renew is a non-profit organisation that helps musicians, students, and their communities live and act in sustainable ways. They have brought the message of sustainability to thousands through rock shows, festivals, lectures, and installations, which fits in perfectly with the ethos of the Vale Earth Fair. They even run their tour van on bio-diesel.
The John Wesley Stone, 14:00 – 14:40
Country punk rockabilly skiffle crew The John Wesley Stone. Taking their name from a boulder used as a horse mount and then as a pulpit by the maverick 18th-century preacher, The John Wesley Stone formed in late 2007. Fronted by multi instru-mentalist Hillbill (hollerin, strings and reeds), the JWS are renowned on the local live music scene.
Their love of raw, no-frills-for-the-sake-of-it real music - which encompasses everything from garage and mod to rockabilly and bluegrass - led them to create a sort of cosmic skiffle-type thing using resonator, acoustic and baritone guitars, banjo, harmonica and a minimal drum kit.
Edith's Head, 13:00 – 13:40
Edith's Head have been subverting musical trends in the Channel Islands for many years and return from a long break – was it really 2004 the last time they played the Vale Earth Fair - their style is something along the lines of free jazz/world/avant-rock.
Just listening to one of the works can conjur up any number of musical and artistic references – you will find much to feast on here. Live sets have veered from train-like rhythmic tightness to skwaling bursts of punk/free jazz.
Another thing that Ediths Head insist on is original material, these guys can choose any song from their 50 song strong back catalogue. Expect brilliantly original lyrics and a live set not to be forgotten.
Shambolix, 12:00 – 12:40
Alderney's very own blues punk outfit Shambolix, open the day's proceedings. Duo Derrick & Helen will bring to life the 2013 Vale Earth Fair with some raw insightful tunes – the Channel Islands' own version of the White Stripes.
Stage Against The Machine:
The Algorithm, 20:45 - 21:45
The Stage Against the Machine at the Vale Earth Fair will host headliners The Algorithm, who have just won the Golden God for Best Underground Act at this year's Metal Hammer Awards, fresh from a triumphant set at last weekend's Download Festival. "Following the announcement of main stage headliners Buzzcocks, it's great to get such a prestigious new act headlining the outside stage at the Vale Earth Fair as well" said Vale Earth Fair Collective member Simon Rivers.
The brainchild of talented French producer Rémi Gallego, THE ALGORITHM infuses modern metal breakdowns with a menagerie of electronic subgenres such as IDM, chiptune and breakcore to concoct his own potent style of fiercely heavy music. Imagine a mash up of electronica driven breakdowns, djenty guitars, gut wrenching sub wobs and glitchy melodies all working together to fluidly pummel your head into the future.
After a successful premier of their live show at last year's Euroblast festival, The Algorithm have gone on to destroy venue and festival stages across the globe, perfecting their trademark sound along the way. Armed with Mike Malyan (Monuments) on the drums, the live experience is quite honestly like nothing the metal or electronica worlds have ever experienced.
Monday 26th August - Wind-down gig at the De La Rue, 8pm Free Entry
The Black and Reds, 22:30
To be a touring rock 'n' roll musician is to live a nomad's life, which entails a litany of hardships. To survive, one must embrace a series of harsh commandments: Thou shalt be on the road for months at a time, thou shalt live out of a bag the entire time, thou shalt never spend more than a few nights in any given city. Fortunately, The Black and Reds drummer and lead vocalist Ashley Sheehan's Gypsy ancestry makes him well suited to this existence, and guitarist and back-up vocalist Greg Lake's outright enthusiasm makes him the perfect accomplice.
They don't record multiple tracks. They don't swath their songs in layer after layer of post-processing, and instead rely on solid song writing and smart hooks. "Our sound is huge, massive, explosive, dynamic and filled with colour," Sheehan said. "Our aim is to achieve the biggest sound possible with just the two of us making it. We have our own sound and our own identity and we do it in our own way."
This is apparent in the duo's influences, from which they have dug deep. Sheehan draws his inspiration from jazz and folk artists such as Buddy Rich, Miles Davis and The Dubliners, whereas Lake was raised on a diet of Jimmy Hendrix, Cream, Thin Lizzy and Black Sabbath. The result is a sound that gives a passing nod to their musical diet but is a beast apart in its totality. The Black and Reds is something that is distinctly Sheehan and Lake's, and they take fierce ownership of it.
Grant Sharkey, 21:30
We stole this picture from his website - The Vale Earth Fair's compere takes to the stage for a bit of stand up comedy and electric double bass madness. A man on a mission - to release 40 albums in 20 years, and finish it off with a big party. We'll all be there!
Tonight The Skies, 20:30
James & Holly warm things up...