<< Back to events
LINE UP - Sneakaway Stage
Sneakaway Stage, Vale Castle
Sunday, August 28, 2022 (All day)
Bringing its usual mixture of madness and tranquility, the Sneakaway Stage is back for another one!
Isle Of Words
The fabulous and super talented Borderland Ramblings (otherwise known as Jack) will be hosting Isle Of Words. Showcasing the new and familiar faces of the Bailiwick's spoken word scene, it is sure to be an intimate, funny and personal start to the day.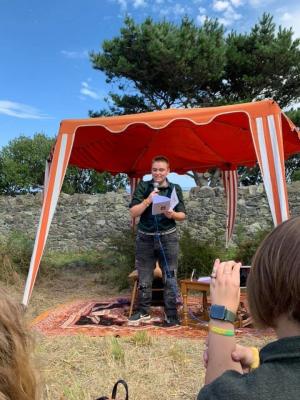 Featuring:
Callum Moores

Borderline Ramblings
Katie Guilmoto
Daisy Tallulah
Morgan Clark
Rowan Carteret
Ric Carter
Dylan James
Aeva Joy
Yves Le Marquand
Alexandera Rowe
To round off the first section of spoken word, we are lucky to have Karen from the Burma Campaign come along to talk about the great work this charity does at about 2pm. The Burma Campaign are a charity that the VEF have supported for a while now and we're really pleased Karen can be here to tell us more!
In Conversation
This year, Wynter Tyson of Clameur Du Cinema puts the focus on the local film making scene as he hosts a conversation with film production companies Guernsey Filmworks and White Rock Productions. It's sure to be a fascinating look at how independent film-making works, some of the unique challenges making a film in Guernsey brings and a look forward to some upcoming projects.
The Mother Wolf Club
And finally, we are incredibly excited to be hosting the Mother Wolf Club. Compered by the wicked John Swale, the show will be a bold and wild adventure, featuring hip-hop puppetry, spoken word, a loop pedal and some collective song-making, plus much more in a 2 and a half hour show.
Featuring:
Kid Anansi - 16:10

Christian Foley - 16:20

Jamie Merrick - 16:30

Kid Anansi - 16:40

Christian Foley - 16:50

Jamie Merrick - 17:00

John Swale - 17:10

Runchtacular - 17:20

Alexander Canwell - 17:35

Harry Mold - 18:10

Ballad Of The Hive Mind - 18:40

Brothers Doom - 18:50
Plenty of motivation to take those slippery steps down to see us!